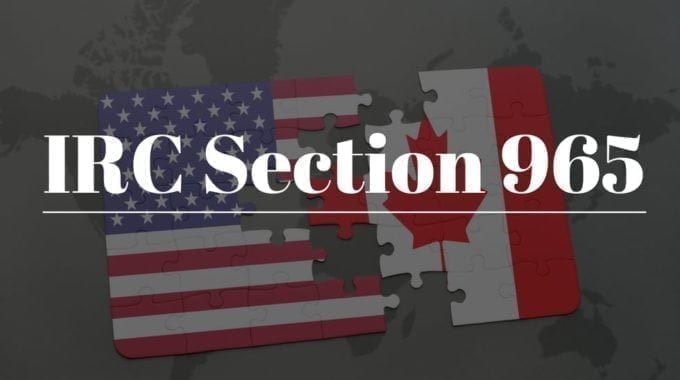 An Overview of IRC Section 965
An Overview of IRC Section 965
The transition tax (also referred to as mandatory repatriation) was imposed by the new U.S. tax law in IRC Section 965. The U.S. Department of Treasury and the Internal Revenue Service (IRS) have been busy in issuing guidance to taxpayers on how to deal with the transition tax and are currently working on regulations that are supposed to address many critical issues and unresolved areas of the new tax provision. Recently, the IRS has released a list of Frequently Asked Questions (FAQs) with respect to the transition tax imposed under IRC Section 965. This information pertains to the tax payment obligations and return filing deadlines, as well as other areas relevant to reporting the transition tax on one's individual income tax return for the 2017 and 2018 tax years, as applicable.
Generally, pursuant to IRC Section 965, certain U.S. shareholders of certain foreign corporations are subject to the transition tax on positive post-1986 accumulated earnings and profits of such foreign corporations (Specified Foreign Corporations). A U.S. Shareholder is any U.S. person who holds at least 10 percent of a foreign corporation stock by vote (that definition was expanded from the 2018 tax years to include vote or value). The Specified Foreign Corporation (SFC) is defined as a Controlled Foreign Corporation (a foreign corporation where U.S. Shareholders own more than 50 percent by vote or value) or a foreign corporation that has at least one U.S. domestic corporation as a U.S. Shareholder, even if the foreign corporation is not a CFC. The transition tax has retroactive effect on most individual U.S. Shareholders.
Only positive post-1986 earnings and profits of SFCs are subject to the transition tax. To the extent a SFC has earnings and profits deficit, U.S. Shareholders of that SFC would not be subject to the transition tax. Pursuant to IRC Section 965, the positive earnings and profits of one SFC can be offset by a deficit in another SFC owned by the taxpayer.
The transition tax is punitive for many U.S. persons who live and work outside the United States. There are limited tax planning opportunities, the calculation of the transition tax is complex, and several areas have lots of uncertainty.