TAX CONSULTATIONS FOR CANADIAN RESIDENTS
Your Consultation Guide: Finding the Perfect Path to Financial Clarity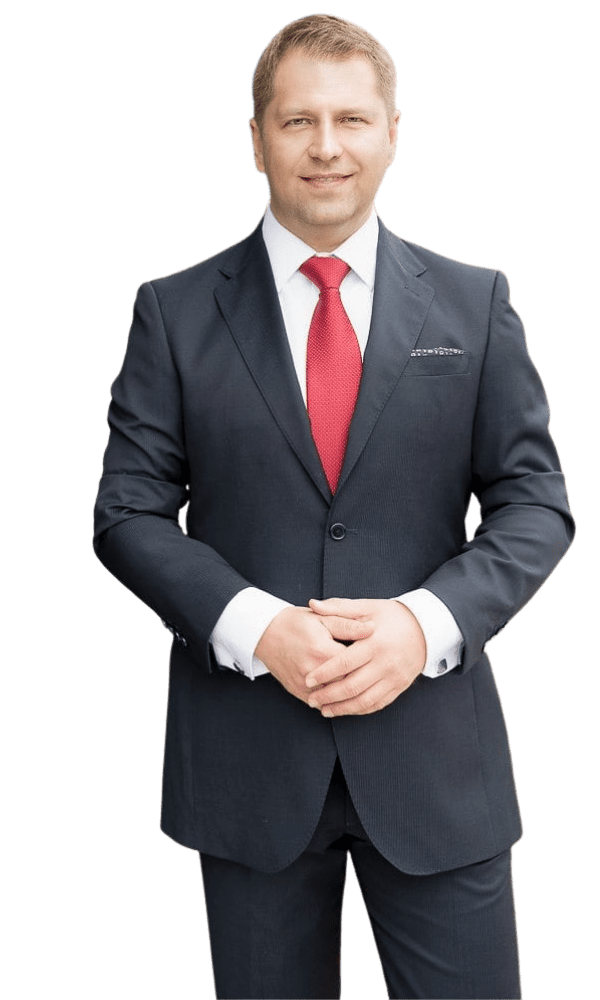 WHY U.S. TAX IQ
We are committed to providing our clients with an exceptional service experience
WHAT OUR CLIENTS SAY
Unscripted and 100% Genuine Testimonials from Our Clients
Good advise on home sale for dual citizens, good use of time on agenda and

...

getting the full answers in allocated time.

read more
I am a dual citizen, I have always filed dual taxes but I had a home sale this

...

last year and did a lot of research to find someone I trusted with my unique tax situation. Alexey was extremely knowledgeable and my meeting confirmed all of the other wonderful reviews he had on here. I would highly recommend him to anyone for their cross-border tax needs.

read more
My wife and myself had a great experience, working with Alexey. He gave us very

...

useful advisory information which helped us in the process of moving from Canada to US.Thank you.

read more
Alexey is an expert when it comes to cross boarder income and US tax filing.

...

He took the stress out of my transaction and handled it with ease.

read more
Alexey cut out the BS and gave me straightforward and actionable advice on the

...

tax issues related to my specific situation. He laid out the pros and cons of each choice. He not only made recommendations, but he also explained the reasons behind them. In my specific case, nothing special was required and he was honest about that instead of trying to drum up more work for himself by proposing a bunch of tax analysis. I would recommend.

read more
It was with much anxiety that I contacted Alexey as I had recently been made

...

aware that as a dual citizen I had tax-reporting obligations in the US despite not having lived or worked there since I was 2. Online research was scary with potential of large penalties etc. Alexey took the time to explain everything and walk me through what needed to happen to become compliant. He then made it really easy to submit everything that was needed to complete the filings. High degree of professionalism and approachability the whole way through. Highly recommend for anyone who finds themselves in my position!

read more
I had a very complex tax situation this year since I needed to request a refund

...

from the IRS (US) and pay that amount to the CRA (Canada). I approached Alexey and Yashar because after an unsuccessful attempt at filing my returns with another accountant. Alexey and Yashar were extremely quick, efficient and knowledgeable. Thanks to them, I was able to obtain the refund from the IRS within a few months and pay off the amount I owed to the CRA. I highly recommend this firm!

read more
Alexey was thorough in learning about my situation and guiding me through all

...

my options. I appreciated the online booking service for the initial consultation; it took me less than 5 minutes to get an appointment. Overall great service!

read more
My husband is a U.S. Citizen and Canadian PR. We had a consultation with Alexy

...

to discuss strategies for managing our assets and estate planning to optimize our tax position. He was extremely knowledgeable, helpful and answered all our questions. We finished asking our questions before the end of the hour and he took the rest of the time to probe other areas with us and offer advice which was appreciated, rather than just cut the meeting short. Would absolutely recommend if you have obligations to file with the IRS and want to avoid any issues.

read more
Working with Alexey and the team at US Tax IQ didn't just solve my legal needs

...

to a high level of quality, but ended up being an enjoyable experience. The small, dedicated team went above and beyond the service they offered to make me feel comfortable, valued, and well-educated in my own legal and tax history. Alexey treats his clients with respect, honesty, sincerity, clarity, and just the right balance of professionalism and personal consideration. I would recommend them whole-heartedly to anyone. I feel set up for success in my renunciation process from the US and know that the team at US Tax IQ is just an email away.

read more
Beside my personal tax complications along with my business tax problems. In

...

2018 I thought this is the end of my business and the end of my courier. Because that is all I know. Mr. Manasuev and his professional team took care of my complex tax issue . Alex assured me one thing , he said not to worry let me do my job and indeed he did it . At the end I was and still up to date with my taxes. I am still his client .In brief give your bread to the baker even if he eats half of it , better than you burn it and toss it all in the garbage.

read more
In a marketplace where big-name firms seem incapable of adjusting their

...

services to fit their client's real-life circumstances, U.S. Tax IQ stands out above the others and goes the extra mile to work with you -- another human being! "Boutique" is not just another word with Alexey Manasuev and his associates. U.S. Tax IQ made my first taxation and legal experience not just survivable, but (let's be honest, we're talking about lawyers and accountants here) ALMOST fun. That's how personable and compassionate they have been. All five stars, earned!

read more
My wife and I have had great experiences working with Alexey and team. They are

...

efficient, reliable, knowledgeable and trustworthy. I genuinely feel that the team cares about our cases, and does whatever they can to help us feel satisfied with their services. I would absolutely recommend them for any of your US-Canada related tax needs.

read more
Alexey was great and answered my questions regarding how to best structure our

...

family will and inheritance to make sure we understand what is needed in both Canada and the United States. The service was wonderful and team was very quick to respond to my initial inquiry and setting up an appointment was easy and convenient. Thanks Alexey - you really made this clear and easy to understand!

read more
As a dual citizen of both the U.S. and Canada, I needed some cross border tax

...

advice and booked a consult. Alexey was extremely knowledgeable and thorough. He brought things to my attention that I was not aware. He listened attentively and asked questions to understand my situation. His advice will definitely be valuable moving forward.

read more
In these times of ever changing regulations and constant adjustments needed to

...

deal with cross border business , I have found Alexy and his staff at US Tax IQ to be an invaluable asset.Whatever the problem, they always have the solution.

read more
Before renouncing my US citizenship, I thought I'd get a legal consult from

...

Alexey and his team. It was a very wise decision because the advise and action steps that came out of the consult saved me tens of thousands of dollars, months of time, and saved me from making detrimental mistakes and getting compliant. It was gold and I recommend anyone on this path to get legal tax advise from Alexey and his team, even if it's just the consult alone.

read more
Grateful for Alexey and his team! Very few tax attorneys were familiar with my

...

situation, but after talking with Alexey, he was confident that he could help to resolve my IRS penalties. Very professional and got the job done quickly! Highly recommend & I would use them in the future if I had to.

read more
Alexey and his U.S. Tax IQ team are knowledgeable, professional, courteous and

...

efficient. All questions and concerns were addressed promptly. We could not be more pleased. We have recommended their services to friends and family with complete confidence.

read more
US Tax IQ have been just incredibly helpful. I've had several issues over the

...

last 2 years related to both dual citizenship and some changes in my marital status. They have been patient, kind, knowledgeable, and fantastic value for money. I definitely feel like I'm in good hands with them, and continue to use their services for both Canadian and US taxes. I recommend them to friends whenever possible.

read more
OUR INITIAL CONSULTATION PROCESS
We put a lot of thought into our processes that have been continuously improved over the years with one primary goal in mind that is our clients' satisfaction. Our initial consultation process is reliable and has you covered from the moment you first interact with us until your tax concerns are addressed.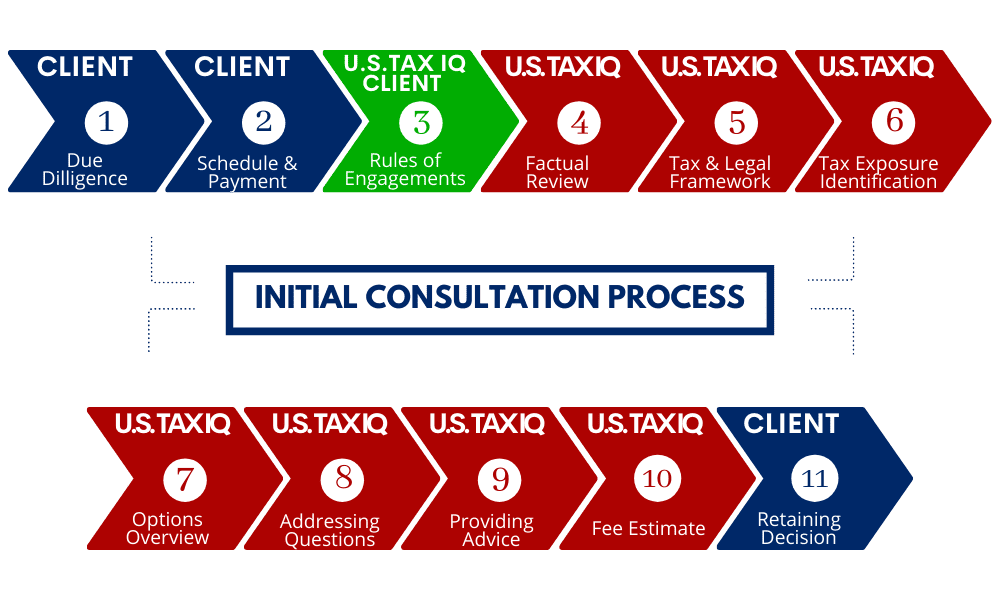 STEP 1 - CLIENT

DUE DILIGENCE & RESEARCH

STEP 2 - U.S. TAX IQ

SCHEDULING & PAYMENT

STEP 3 - U.S. TAX IQ / CLIENT

PRELIMINARY ADMINISTRATIVE MATTERS

STEP 4 - U.S. TAX IQ

FACTUAL REVIEW

STEP 5 - U.S. TAX IQ

TAX & LEGAL FRAMEWORK

STEP 6 - U.S. TAX IQ

TAX EXPOSURE IDENTIFICATION

STEP 7 - U.S. TAX IQ

OVERVIEW OF AVAILABLE OPTIONS

STEP 8 - U.S. TAX IQ

ADDRESSING YOUR QUESTIONS

STEP 9 - U.S. TAX IQ

PROVIDEING RECOMMENDATION & ADVICE

STEP 10 - U.S. TAX IQ

FREE ESTIMATE

STEP 11 - CLIENT

DECISION ON RETAINING US
WHY PAID TAX CONSULTATIONS
After all, cross-border taxes shouldn't be so taxing!
In the realm of tax consultations, the debate between free and paid options persists. While a complimentary initial consultation might seem appealing, it's important to consider the underlying value and expertise offered. The complexities of U.S. international tax and cross-border Canadian tax laws require specialized knowledge, and this is where a paid consultation with a qualified professional shines. Such consultations provide an opportunity for an in-depth analysis of an individual's tax situation, identifying potential tax exposure and offering tailored solutions. The dedication of time, experience, and comprehensive understanding offered in a paid consultation sets the stage for informed decision-making and long-term financial security.
A free consultation, though enticing, may lack the depth necessary to address intricate tax matters effectively. It's crucial to recognize the investment professionals make in their education and experience, making paid consultations a more reliable option. The valuable insights gained from a paid consultation extend beyond mere numbers, offering practical and actionable advice tailored to each individual's unique circumstances. When faced with the complexities of U.S. international tax and cross-border tax laws, opting for a paid consultation ensures access to a higher level of expertise, accuracy, and personalized guidance.